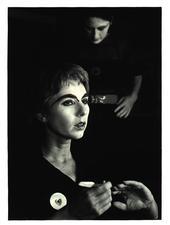 $

25.00
Collector's Item! Singer/songwriter Jan Cornall and pianist Elizabeth Drake perform original songs from the acclaimed cabaret musical.
Written by Jan Cornall while writer in residence at The Pram Factory, Melbourne, in 1979, it was first performed as a musical in 1979, then toured by Cornall and Drake to festivals and theatres in Australia in 1980-82.
Hailed as a cult hit of its time, Cornall's songs smash the myth of romantic love with humour, wit and pathos. Drake's piano arrangements and back up vocals add finesse and style to Cornall's piercingly sardonic vocals.

With hit songs like: Monogamy Shbedogamy, Better Than Het, The IUD Song, Vibration Vibrateur, What Ever Happened to the Evolution of the Sexual Revolution?
Listen at https://soundcloud.com/jnana511/monogamy-shbedogamy
https://soundcloud.com/jnana511/spilt-guilt