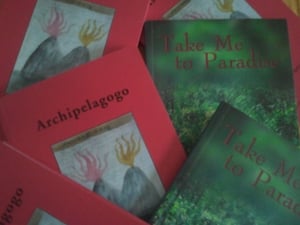 $

25.00 - On Sale
Take Me To Paradise AND Archipelagogo - get two books at discounted price.
If you love Indonesia you will love these books.
Take Me To Paradise, published by Saritaksu Editions
Marilyn wakes up one morning and instead of catching the bus to work, catches the 'I don't like Mondays' flight to Bali. But is she too late to indulge her paradise dream? Has post-bomb, post-Schapelle, Bali, become a cliché just like Marilyn? How many western women have arrived before her and fallen headlong, for the lush green island, its exotic culture and their attractive driver?
Set in the artisan hill town of Ubud, between bomb one and bomb two, Jan Cornall's witty and insightful performance prose novel explores notions of paradise and a modern woman's quest for meaning and passion in a post 9/11 world.
Launched at Ubud Wrietrs Festival 2006.
Archipelagogo
Archipelagogo is a new collection of poems, songs and stories, penned during Jan's travels around the Indonesian Archipelago in the decade beginning 2004 (and a follow up to the novel I wrote during my Asia Link Residency in Jakarta in 2006).
Many of these love-song-poems about people, places and the complexities of cross cultural relationships, have been spoken and sung (acapella - archipela) at different times to intimate audiences at literary festivals in the Asia Pacific: Ubud Writers Festival, Utan Kayu Literary Biennale, Darwin's Wordstorm, Braidwood's Two Fires Festival, St Kilda Writers Festival, Hong Kong International Literary Festival.
This beautifully presented book published by Saritaksu Editions, is illustrated with painting by Indonesian artist Jumaadi and was launched at a wonderful full house cabaret performance at Bar Luna, during Ubud Writers & Readers Festival in October 2013.