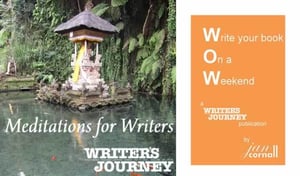 $

25.00
Created to go together, the meditations can be used with the workbook to keep you focused on each stage of the writing process. See below for more detail.
For those that have taken Jan's workshops, these are the perfect support products to ensure you have all of Jan's valuable advice at your fingertips. They are also useful for writers starting out or wanting to find the way back into their writing.
Both are digital files and will be emailed immediately after your payment has been processed.
THE WOW WORKBOOK - Write Your Book On A Weekend!
Q. Wow, I can really do that?
A. Yes! In one weekend you can learn how to make a story map, a chapter outline, a character graph, write your synopsis, and start your first chapter.
Then set aside a weekend per chapter for the next three months to complete your draft.
The writing itself, once you get down to it doesn't take long. It's everything you do to avoid writing that takes up all the time. If you put your mind to it you could write a book on a weekend!
This 63 page eBook and will be emailed to you upon receipt of payment.
THE MEDITATIONS
13 digital tracks to use as needed.
Track 1 or 2 can be used in conjunction with another track of your choosing for each area of writing craft.
1. Relaxation Nectar - visualise a delicious nectar relaxing your body inside and out, sweeping away tensions and worries about your writing
2.Breath - learning how to use the breath to prepare for writing.
3.Observation exercise brings your writing into the present moment.
4. We imagine our perfect writer's den where we can go anytime to immerse ourselves in our writing.
5. Getting in touch with the original impulse to write our book. Re-energising when we have lost our way.
6.Visualising our finished book, with cover design, author name, publisher and date of publication.
7.Dealing with the negative critic once and for all.
8.Finding our writer's voice through deep listening.
9.Visualising the world of our story and the characters who inhabit it.
10.Revisting a house from the past.
11.Writing from a photo.
12.How to begin your chapter.
13. Meditating on the structure of your book.
The digital files will be emailed you on receipt of payment.