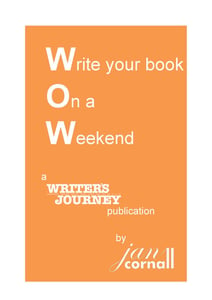 $

15.00
Learn how to Write Your Book on a Weekend.
Q. Wow, I can really do that?
A. Yes! In one weekend you can learn how to make a story map, a chapter outline, a character graph, write your synopsis, and start your first chapter.
Then set aside a weekend per chapter for the next three months to complete your draft.
The writing itself, once you get down to it doesn't take long. It's everything you do to avoid writing that takes up all the time. If you put your mind to it you could write a book on a weekend!
This is a 63 page eBook and will be emailed to you upon receipt of payment.